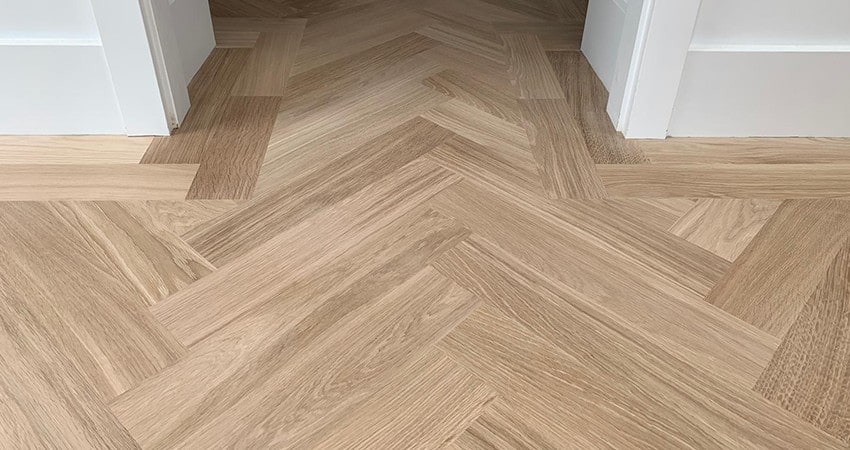 What Is Engineered Parquet Flooring?
With its distinctive geometric patterns and slanted styles, parquet flooring is an immediately recognisable method of home decoration. Popular among the upper classes at the outset of the 20th century, parquet flooring can still be seen in stately homes and wealthy households throughout the country. It's no wonder it's become synonymous with luxury and elegance.
Despite this, solid timber parquet flooring still has its drawbacks. In its raw state, wood is a material which naturally reacts to fluctuating temperatures and moisture levels, expanding in the heat and contracting in the cold. This can create unsightly gaps or cracks in the wood as the floorboards rub up against each other.
In worst case scenarios, the boards can become bowed or cupped, leading to an uncomfortable sensation underfoot and allowing a draught to infiltrate the room. That's where engineered parquet flooring can come into its own.
What is engineered parquet flooring?
Engineered parquet flooring works in exactly the same way as other engineered floorboard solutions. The block is comprised of a real wood veneer at the surface level, meaning that the timeless aesthetic of timber is maintained above ground. However, that veneer sits atop a series of base layers of a softer core material such as plywood.
Since it's less susceptible to the changes in temperature and moisture than natural timber, plywood makes for the ideal solution to the problem. As a result, engineered parquet flooring minimises movement of the floor, meaning it's likely to last longer and maintain its quality, to boot.
The advantages of an engineered system
Of course, the solution you opt for will depend largely on your personal preferences and of the individual circumstances of the room in question. However, at Greyspace Flooring, we are big fans of engineered parquet solutions, primarily for the three following reasons:
Appearance. While purists might claim that nothing compares to a natural timber parquet floor, the reality is that the difference between a top-of-the-range engineered solution and a natural one is virtually indistinguishable, even to a trained pair of eyes. What's more, our engineered solutions are available in a wide variety of styles, species and finishes.
Practicality. Since they're versatile and durable, engineered parquet floors are the perfect option for any room in the house, including ones where moisture and temperature are in constant flux (such as the kitchen or bathroom), or where underfloor heating (UFH) has been installed. Simply put, it's a one-stop shop with no stress or second guessing.
Efficiency. While great strides have been made in the efficiency of solid wood parquet flooring techniques, engineered solutions come ready-made and as such, are far more easily and quickly put in place. When you choose an engineered parquet floor from Greyspace Flooring, you'll have your room ready to live in in no time at all.
Let us help you
Want to learn more about the range of engineered parquet flooring solutions on offer at Greyspace Flooring? We're specialists in the sector, kitting out properties with stylish and practical solutions all over the UK. Our Sheffield showroom is packed with hundreds of different samples, showcasing the range of woods, finishes and patterns we offer.
Alternatively, if you'd rather get in contact and hear our professional opinion on the options open to you remotely, why not give us a call? You can discuss your situations with one of our friendly team at 0114 258 1256 or drop us an email at [email protected] and we'll get back to you as soon as we can. We're waiting to hear from you!