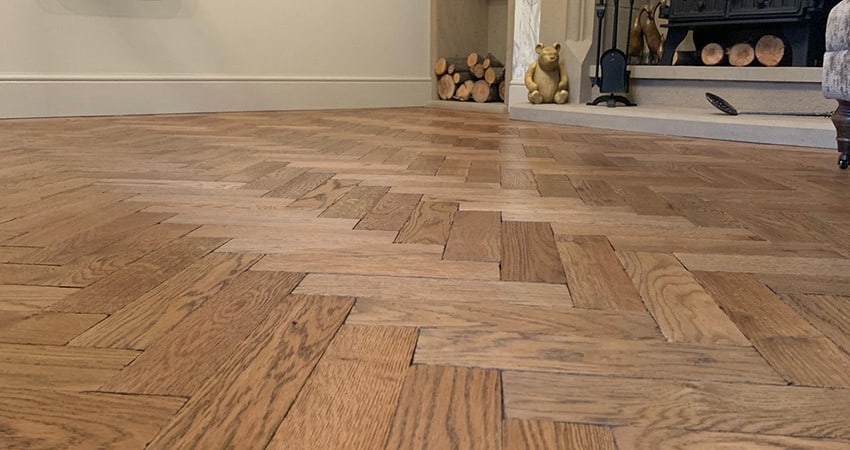 How Much Does It Cost to Install Parquet Flooring?
Parquet flooring is an attractive option for many homeowners looking to bring a touch of class into their household. With its slanting patterns and attractive designs, it's become almost synonymous with elegance and opulence, while its timeless appeal means it's equally capable of complementing a modern aesthetic as a classic one.
Having said that, it's a solution which doesn't come cheap, and it's a good idea to get a handle on the various contributing factors to the overall cost of the project before committing to the idea. The type of product you select, alongside the size, shape and existing condition of the room you wish to refloor, will have a sizable effect on the final cost of installation. As such, each case must be analysed on an individual basis, but this guide should give you a quick rundown of the expenses you can expect to pay.
Contributing factors
As a general rule, the final price of installing parquet flooring in your home will depend on the following four factors:
Product – Firstly, you'll need to decide whether you want solid wood blocks or an engineered wood alternative. Both will achieve the same stunning effect above the surface, but the latter is recommended for rooms where temperature and moisture levels may vary, or where underfloor heating (UFH) is installed. Among these two styles, you'll then need to choose the species of wood itself.
Size – As with any project of this type, the quantity of floorboards that are needed (as well as the length of time it will take to install them) are defining factors in the overall outlay.
Shape – The complexity of the project is also going to affect its price tag, since awkward shaped-rooms and spaces will require more complicated arrangements of floorboards and more technical installation abilities.
Existing condition – Is the floor upon which the parquet boards are to be laid in good condition? If it requires any work in improving its surface and levelling things off, you can expect the costs to climb. You can minimise this part of the bill by undertaking some preparatory work yourself or having a qualified tradesman tackle it.
As you can see, it's nigh-on impossible to give an exact estimate of how much parquet flooring will cost to install, but assuming that there are no major obstacles with regard to the shape and existing condition of the room, it's reasonable to expect to pay between £150 and £180 per square metre of parquet flooring.
Taking that rough guide as a basis, a 16m2 hallway would cost between £2,400 and £2,880 to install, while a 100m2 shop floor could incur expenses of between £15,000 and 18,000. Trust us – it will be worth it.
A worthwhile investment
While those projections might sound expensive, it's important to remember that parquet flooring is an investment as much as an expense. The durability of the wood – especially if you opt for an engineered solution – means it's likely to last for decades, while the timelessness of its style means it'll never go out of fashion and you won't need to replace your floor to keep up with the latest trends.
Would you like to learn more about the exact costs of installing parquet flooring in your home? Our showroom in Sheffield has literally hundreds of samples for you to look at, or you could get in touch with us remotely for a free, impartial quote. Simply send us an email at [email protected] or give us a call on 0114 258 1256 and we'll be happy to answer any questions you have.