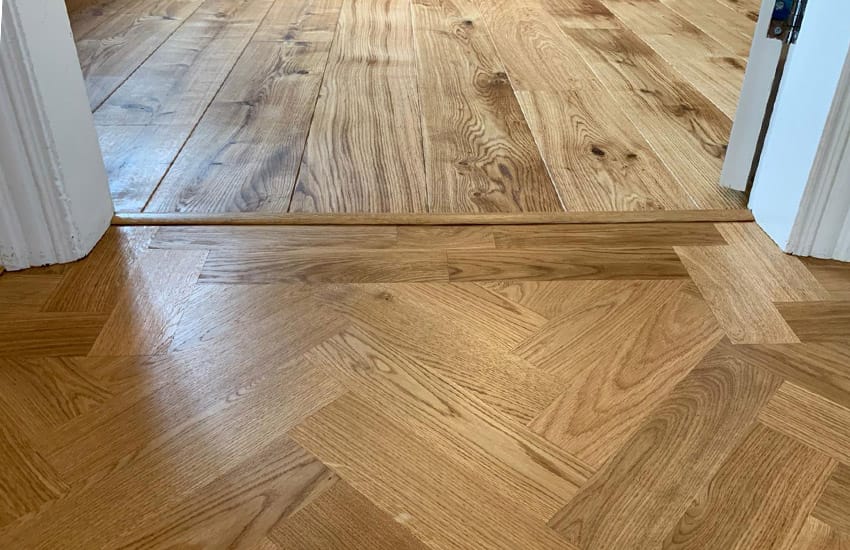 Should You Use the Same Wood Flooring Throughout Your House?
High-quality wood floors are in a league of their own when it comes to style, strength, longevity and overall quality. So much so that many homeowners want to install wood flooring throughout several rooms in their house.
It's not unusual to have a specific type of wood flooring in mind – whether that's a style like herringbone or a particular shade of oak. In this post, we'll discuss whether you can use the same wood flooring throughout your house – both from a style point of view and in terms of practicality.
Is it practical?
First and foremost, it's worth considering the practicalities of installing wood flooring throughout a whole floor of your home. So – is it practical? In short, the answer is yes. At Greyspace Flooring, we have worked on a number of projects where the same wood flooring has run throughout the entire ground floor.
The main requirement is that the sub floor is consistent throughout the various rooms. If that's not the case, the floor can still be installed, but it would require a bit more work to get the sub floor prepared beforehand.
Weighing up the style
Next, it's onto the style of wood floors throughout the home. In short, it simply comes down to preference.
For many, using the same flooring throughout different rooms creates a consistent, more harmonious appearance in your home. Some designers even insist on it, with the same floor offering a continuous look that actually makes homes feel more spacious.
On the flipside, some argue that using different styles or types of wood flooring can create a more intimate tone, with each room having its own atmosphere.
While that may be true, having the same floor in different rooms doesn't mean they can't all have their own identity. Furniture, walls and even rugs can be used to make each room individual while using the same floors for a spacious, consistent style.
What about cost?
Finally, there's the cost. Obviously, having wood floors installed in more rooms will add to the cost of the job. However, it could actually work out cheaper than having different wood floors installed in each room on separate occasions.
Having the same wood floor installed throughout your home means the installation team can lay the floors in one go. In some cases, you could also get a better price per square metre compared to a smaller job.
Transform your home with beautiful wood floors
Whether you're transforming a single space or your entire house, wood floors are a truly stunning choice that can make any room – or every room – look and feel amazing. If you're still unsure on what's best for you, don't hesitate to get in touch with Greyspace Flooring.
From the initial choice of products at our Sheffield Showroom to a customer-first installation, including on-site staining, we make it easy to get the wood flooring that's perfect for your home.