OUR WORK – TUMBLED OAK PARQUET FLOORING FOR A HOME WITH KIDS & PETS
OVERVIEW
Beautiful parquet flooring is highly sought after in homes across the county. That's no different for the S6 area of Sheffield, home to Matt and Marie who we worked with in October 2019.
The couple had always dreamt of having parquet floor in their home. It's timelessly elegant, while also being hard-wearing and durable for their home with kids and pets. When they set about on other renovations in the house, they saw the perfect opportunity to make that dream a reality.
We installed solid oak parquet flooring to two connecting lounge areas in their Sheffield home, complete with a tumbled treatment for that coveted antique appearance.
PROJECT CHALLENGES
Matt and Marie chose Greyspace because of the high quality of products on offer. However, it was the service that made the choice easier. After talking them through the process, they were visited by Chris, who showed them a range of different finishes and colours to choose from.
The main stumbling block for their beautiful home was the subfloor, which was uneven and required some work before laying their stunning flooring of choice. Not a problem for our dedicated installation team.
OUR SOLUTION
We arranged to prepare the floor before installing the new solid oak parquet flooring. That included areas around the mantelpiece and fireplace, staircase and a small area under the stairs.
We removed the old flooring and parts of the subfloor to allow for a completely flat and stable surface throughout the two living areas. We also built in a matt well by the front door, as this was something Matt and Marie were keen on.
THE INSTALLATION
After preparing the subfloor, our team installed tumbled solid oak parquet flooring throughout the two adjacent rooms. That was complete with trimmings around the fireplace and the perimeter of the rooms but allowed the flooring to flow seamlessly through the adjoining archway.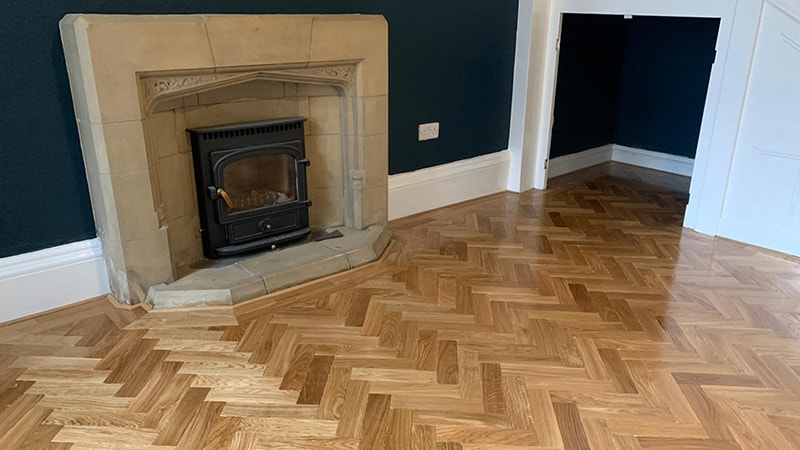 CLIENT COMMENTS
As for the results, we can't put it any better than Matt and Marie themselves:
"The workmanship was first class and we couldn't be happier with the end result. Our floor looks fantastic! I have no hesitation in recommending Greyspace to anyone looking for flooring that really enhances a room"